IP PROTECTION FOR CONTENT CREATORS AND SOCIAL MEDIA INFLUENCERS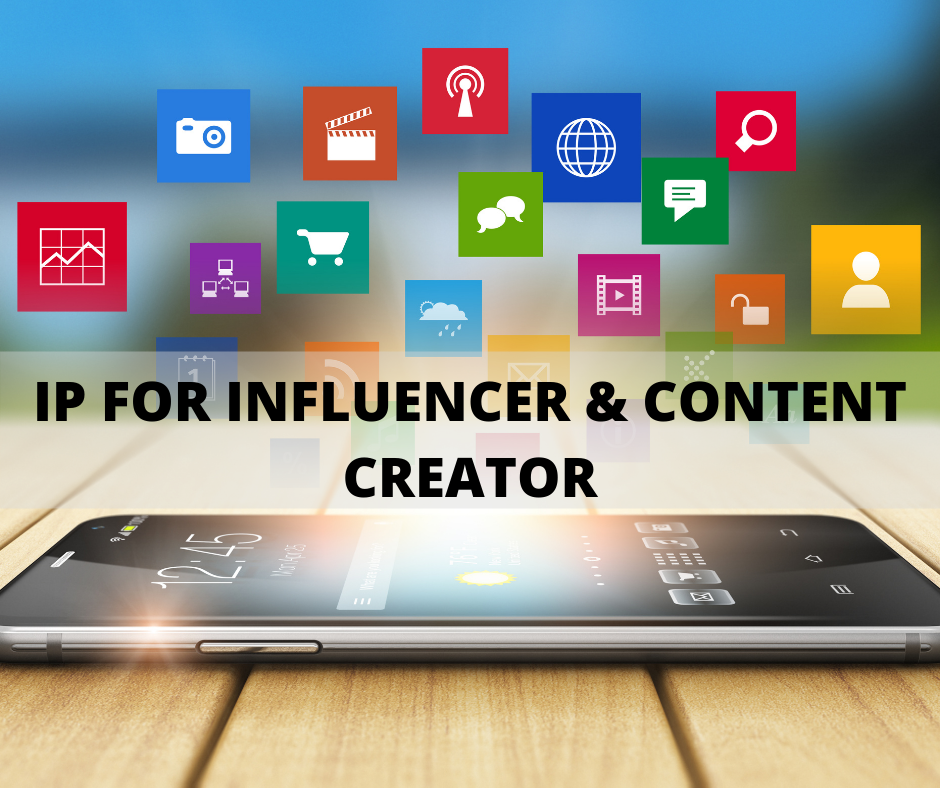 Social media has become one of the most influential and successful methods of marketing and advertising. According to the recent study India has the huge market that deals with social media and content creators as compared to international market. As social media platforms advance more participants and are widely available to influencers, YouTubers and artists become more and more vulnerable to specific legal concerns regarding IPR. The importance of IP rights for the influencers is because content creator's content gets consumed daily on different platforms, one needs to understand that as these contents are available on daily basis they can be replicated by many users.
Social media influencers create different forms of content that can be protected under the intellectual property rights. Among the IPs the most used is trademark and copyright, one can trademark his or her domain name, hashtags or logos etc. A content creator can secure copyright protection for videos, photos, artworks. Trademark protects influencer's brand name and prevent others for using it whereas copyright will protect the creative work of the content creators.
How to become a responsible social media influencer Influencers must be keep in mind about the rules and regulations on influencers marketing for example correctly labelling ad material, giveaways, paid partnership etc. It is also important that influencers should abide by contracts that have been established between them and the brand. It is critical that one should follow the terms and conditions of the applicable social media platform. Ignoring these rules may result in account being permanently deleted, which might mean losing the followers one has worked so hard to obtain. This may also imply that brands may decide to end their partnership with the influencers.
If Influencers want to cite another creator or use their work on their social media platform, they need to make sure to get permission first. If one wants direct references to another brand, including their products or services, one should seek permission from them first. Example of some well-known social media influencers applied for trademark Some major social media influencers have taken steps to trademark their name. For example, Lele Pons, who has 37.3 million followers, has a trademark application under class 41 (entertainment services) pending in the USPTO.
An appeal was lodged on 3 July 2019 following a refusal issued 12 months previously. Another social media megastar who has trademarked her brand is Huda Kattan. With 39.6 million follows on Instagram and 2 million YouTube subscribers, Ms Kattan has launched a successful cosmetics line, Huda Beauty which is trademarked in the UK and EU under classes 3,9,35, and 41, with a pending application sitting with the USPTO. 
Future of protecting digital and social media content NFT (no fungible tokens) play a dynamic role and their influence can already be felt. The power of NFTs to open new kinds of formation and ownership is being acknowledged by industries such as branding, fashion, gaming, and music. In the social media landscape of the NFT world, most of the commitment occurs on the most crypto-friendly platforms – YouTube and Twitter. Influencer marketing plays a important role in the decentralized NFT community and is dispersed across the globe, which Asian markets are also keeping up to date from global influencers.
With the internet growing at a fast pace, as a social media influencer and content creator, it is very important to be careful and protect your content. Choose your policy deliberately when your brand is contacted for material, since your decisions might have a huge impact on the growth of your social media accounts.