Today's Patent- GAME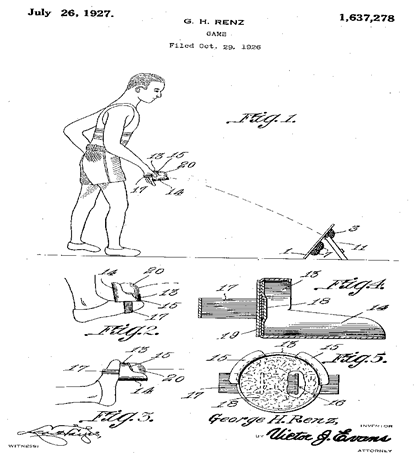 Games serve as recreational activities that are fun and entertaining. They can be teaching-oriented, improve players health, or help in developing new habits in players. George H. Renz was granted U.S. Patent in 1927 for a 'GAME'.
The present invention can be used outdoors or indoors. It does not require any extraordinary amount of skill in order to play the game, but it offers to be a healthy exercise to the players as all the muscles of the body are brought into use while playing the game.
More specifically, the improvements to this present invention comprises of a manually operated means for holding a sphere to be projected at a board or target. The "means" can be removably clamped on the hand, over or under the foot of the player, and being of such construction, the legs and arms of the players are thoroughly exercised while playing the game. This helps in rendering the accurate projection of the sphere effectively.