Today's Trademark- JOHN RIGBY & COMPANY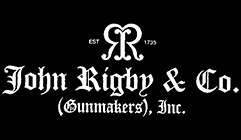 John Rigby & Company (or John Rigby & Co. (Gunmakers) Ltd) is a Dublin-based gunsmithing firm founded in 1775 by John Rigby. The business was established in Dublin, Ireland, by the first John Rigby in 1775; his grandson, also John, opened a London branch in 1865; and Dublin operations had ceased by February 1897.
Lüke & Ortmeier Gruppe now owns the firm, which is headquartered in Vauxhall, central London, and is led by Managing Director Marc Newton.
Rigby-Bissell 1879 patent rising-bite action rifles and double rifles were designed by John Rigby & Co. based on Mauser barrelled actions.
Rigby also offers a serial-number research service; refurbishes vintage Rigbys for owners and collectors around the world, and maintains a Rigby collection in its showroom
According to some records, the firm was established in 1735.
However, since the first John Rigby was born in Dublin in 1758 and began working in the gun-making trade there in 1775, Rigby now cites 1758 as its founding year.
The trademark of this company was registered in USPTO bearing registration number 1386739 on March 18, 1986