CAN NON-FUNGIBLE TOKENS BE A GAME-CHANGER FOR ARTISTS?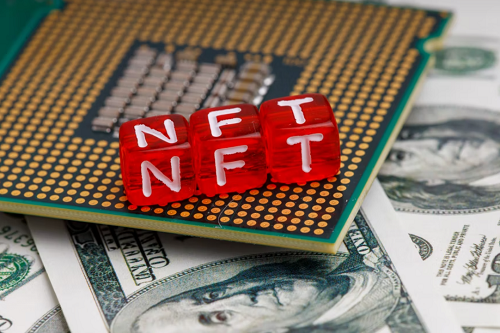 Authored By : Tanya Janghel
The growth in popularity of the non-fungible token (NFT), the newest craze in the world of digital assets, has been in the stories since 2021. This ground-breaking technology has swept the art and tech sectors. NFTs initially hit the headlines in 2017 with the launch of crypto and today, they are well on their way to becoming a mainstay of the global digital economy. Art is a perfect reflection of a person's creative endeavor in this regard. Humans have a strong desire to gather and sell items that reflect their personality.
The importance of NFTs in improving the lives of artists cannot be overstated. This is due to the fact that, for the first time in history, artists do not need to rely on a middleman to sell their work. The art business is structured in such a way that artists must toil for years just to exist, let alone make it large. They don't have to now since NFTs are based on blockchain technology. On the blockchain, artists mint NFTs of their creations and get royalties in eternity. This is a piece of good news for all artists out there looking to present their work.
How does it work?
NFTs are digital files that are stored on a blockchain. A blockchain is a distributed database of digital files that are not controlled by a single entity. As a result, the database is governed by an entire community of users. This is to ensure that digital resources are distributed fairly and equally. An NFT can be used to represent almost anything. A photograph, a movie, a real-world physical asset, and so on. Basically, anything that can be digitalized can be sold as an NFT.
Brokers and intermediaries are no longer required for collectors and followers. Artists can get paid by putting their work on blockchains and NFT markets. In the NFT art space, this produces more equality. This is due to the fact that the traditional art market is restricted to the upper crust of society. Similarly, art should be accessible to everybody. This is something that NFT art markets do. NFT has solved the problem for many small artists looking to monetize and present their work to the world without paying a hefty amount to the art galleries. Perpetual earnings based on sales are the most beautiful aspect of the NFT art market.
But just like cryptocurrency, there are a number of legal considerations to onboard before issuing an NFT. It is very easy to create an NFT but the protocol is different as each token is unique thereby non-fungible. While in many countries cryptocurrencies still do not qualify as financial instruments.
NFTs and Intellectual Property
An NFT of a Basquiat drawing was on sale, and the sellers stated that the successful bidder would be able to destroy the physical work after the digital version was purchased. After an intervention by the Basquiat estate, the sale was quickly canceled, highlighting the multiplicity of intellectual property and other legal difficulties that NFT producers have so far ignored. The NFT sale claimed to offer not only reproduction and IP rights that will be sold to the highest bidder in perpetuity' in the case of the Basquiat, a work on paper titled Free Comb with Pagoda from 1986, but also the purported option to destroy the original Basquiat itself. The concept appears to be aimed at making the NFT the only surviving unique work and selling the copyright to the buyer. Copyright still protects any work by Basquiat, who died in 1988 so making the NFT in the first place was a copyright violation.
NFT markets reveal a plethora of infringing listings and some artists have gone to social media to express their dissatisfaction with their works being minted as NFTs without their consent. Even artwork in the public domain from Amsterdam's Rijksmuseum has been transformed into NFTs.
One of the most recent and first of its kind case related to NFT copyright infringement was heard by the Hangzhou Internet court on April 2022. In this case, a Chinese artist accused Hangzhou Yuanyuzhou Technology Co., Ltd. who is the owner of an NFT platform Bigverse. The plaintiff claimed that her artwork "FAT TIGER" which is an illustration series was created and sold as an NFT digital work by a user. Bigverse being an intermediary has an obligation to do the review of whether a user who created an NFT digital work on it has copyright ownership.
The court ruled that an NFT platform might be held accountable for copyright infringement. The court stated that an NFT marketplace shall develop an IP review system and undertake a preliminary ownership check of the digital works on its platform as an internet service provider. The court stated that even if the platform does not receive a copyright owner's notice, it should assess the likelihood that an NFT digital work infringes a copyright and take appropriate action. The NFT platform may be held accountable for copyright infringement if it fails to do so.
Further, one of the most serious issues is a widespread misconception of the rights that buyers have when they purchase an NFT. Some clients mistakenly believe they are getting both the work of art and the rights to it. However, they are just purchasing the metadata associated with the artwork, not the artwork itself.
Conclusion
There are no rules controlling NFTs. The European Union has passed the MiCA (Markets in Crypto Assets) Regulation which is not yet in effect but is one of the most significant moves taken in the digital age to control the financial sector. The court ruling in the fat tiger case of China has shed some light on the topic of NFT and its legal complications. There is no exclusive law for NFTs yet in any country, as it's still in its initial stage and people and the government are still trying to understand it. On a personal level, people can secure their work of art by registering it with the IP office and being aware of all the rights before buying such digital assets.