RECIPES AND THE DILEMMA OF INTELLECTUAL PROPERTY PROTECTION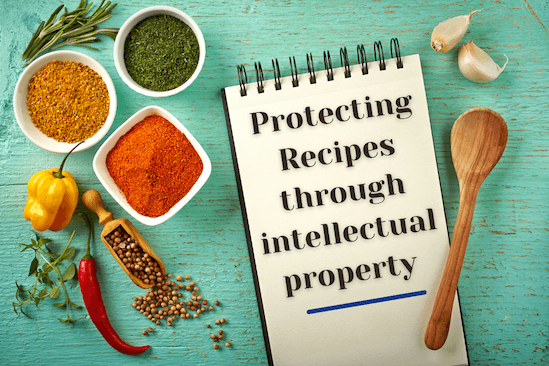 Authored By : Tanya Janghel
As rightly said by Grant Achatz "Food can be expressive and therefore food can be art" and so it can be protected through Intellectual property laws. We all know the famous trade secrets in the culinary world like the Coca-Cola recipe, KFCs lips smacking fried chicken recipe, and McDonald's Big Mac special sauce. But how are they protected? What recipes are eligible for trade secret? Can recipes be patented? Can recipes be protected under copyright? Let's see what the best possible way to protect the recipe is.
What are Trade Secrets?
As the word itself explains trade secrets is the confidential information of a trade that can be protected to refrain it from getting copied or licensed or assign further. The subject of the trade secret can be a recipe, process, commercial information, list of suppliers and clients, trade strategies, pharmaceutical test data, formulas, financial data, computer program, etc.
What Qualifies as a Trade Secret?
Has competitive advantage as it's a secret.
Known by only a limited number of people.
Reasonable steps can be taken to make sure it remains a secret.
How to Protect a Trade Secret?
There is no specific law that protects trade secrets but common law broadly protects trade secrets and various courts have set principles that can be looked upon when protecting a trade secret. There are various methods of protecting trade secrets as discussed below-
Non-disclosure or Confidentiality Agreements:
When you disclose your business information to anyone, have them sign a non-disclosure agreement. A trade secret agreement makes sure that all of your confidential designs, innovations, ideas, etc. are safeguarded and kept secret from the public or other parties.
Encryption:
Encrypt any valuable business information. Layering end-to-end encryption on top of TLS is necessary to ensure that your data is protected no matter where it is sent. End-to-end encryption is a type of data-centric security that, in essence, reduces the perimeter from the network level down to the individual data point, guaranteeing trade secret protection at all times, including when the information is at rest.
Password Protection:
Use passwords to access valuable business information.
Lock and Key:
Lock up any valuable business information in a safe. Instead of patenting the recipe, which would have revealed the contents, Coca-Cola decided to make it a trade secret. It's interesting to note that the Coca-Cola recipe has traveled through the years. Most recently, in 2011, almost after 86 years the secret recipe was transported to Atlanta's Coca-Cola World, where many people visit the secret formula vault each year.
Patenting of Recipes
Patenting of recipes can be done through the process, ingredients, and the combination must be very unique and not obvious. For instance, there are various kinds of smoothies on the market but if you come up with a very unique process then it can be patented.
It is advantageous, especially for start-up businesses, to carry out a critical assessment of where their product or process will be sold because patenting is an expensive procedure, especially as the number of countries in which you require protection increases. Another drawback of patenting recipes is that they can be copied once the patent is issued. The goal of patenting a recipe is to prevent others from copying it. It is also important to keep in mind that patent protection normally only lasts for 20 years from the day the application is filed; after that time, other businesses will be free to use the recipe.
Protection of Recipe through Trade Secret
Where it is challenging to determine the ingredients or manufacturing process utilized to manufacture the food or drink product, trade secrets can be valuable. Additionally, trade secrets offer no defense if a third party is merely able to decode the recipe and copy it. Due to the idea-expression concept, recipes are typically not covered by copyright. It draws a barrier between the expression of ideas that can be protected by copyright law and those ideas that are not covered by copyright law.
Can we Copyright Recipes?
If the selection, organization, and coordination of the included recipes are innovative, a cookbook may be protected under copyright law as a compilation. It merely safeguards the selection and organization of such recipes. A factual compilation may be protected by the copyright, but as the Supreme Court explained in Feist Publications, Inc. v. Rural Telephone Service Co. Inc., the copyright protection is only applicable to the "specific selection or arrangement" and never to the facts themselves which mean recipes are not protected but the arrangement and pattern of those recipes.
Conclusion
Given so many options creator needs to assess what kind of protection will be more valuable and profitable to the business. A chef, for instance, could create a cookbook with his or her recipes and make money from book sales. Naturally, the chef will have to tell everyone the "secret" recipe to do this. Instead, a restaurant that thinks it has a legitimately "secret" recipe for a well-liked dish that offers it a competitive edge can seek trade secret protection to stop its staff from stealing the recipe and exploiting it against other eateries. Patenting can be done if the recipe is made through a unique process but in this case, also the recipe will be out in public as soon as the patent gets published. Therefore, depending on how the recipe will be commercialized, you should rely on one of these protections.