BENEFITS OF TRADEMARK REGISTRATION FOR AMAZON SELLERS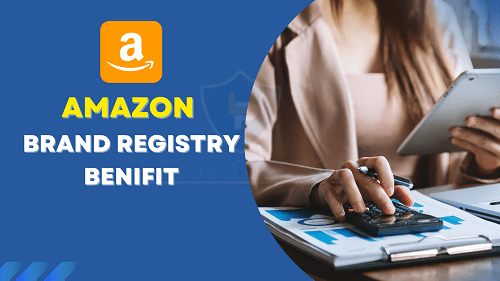 Authored By : Ishita Goyal, Symbiosis Law School
It's difficult to imagine brands without goodwill. Goodwill comes from marketing and it's a no-brainer how important digital marketing in e-commerce has become. From the seller's point of view, not being able to sell products despite having invested good amount of money is an absolute nightmare. But this is exactly where Amazon's Brand registry program comes into the picture.
Amazon came up with its own Amazon Brand Registry program that gives a platform to the registered and verified brands to make use of the advanced and improved reporting tools of Amazon, thereby exercising more authority over their brand on the Amazon platform. The primary objective of the registry is to protect the designated brands and provide a unique experience for buyers by giving access to proprietary text and image search, predictive automation, reporting tools and thus aid in not only protecting their intellectual property, but further build their brand presence on Amazon to improve their business.
Amazon Brand Registry: Is it Even Necessary?
It's absolutely fine if a seller doesn't wishes to enroll for brand registry program but it will become extremely difficult to grow the business. We live in a world of stats and data, without which any marketing strategy will be like shooting arrows without aiming. But with this program, you get features like sponsored brands, which allows your product to be featured above organic results, which clearly gives you a competitive edge. It also protects the business from a Product-Hijack. The Amazon Registry, in addition to necessitating the brand registration, also provides sole ownership to the 'Amazon Buy Box' and thus in a situation where the product is indeed hijacked, the original seller can ask the Amazon support to have it eliminated. Furthermore, the registry helps in exercising a good amount of control on the Product Listings by not being bound strictly by stringent algorithms but control the title of the product, description, image, ID and etc.
Trademark Registration and Amazon Brand Registry: a dynamic relationship
It is already clear as to how Amazon Brand Registry has proven to be a blessing for the businesses listed on its website. However, this blanket protection is not available to each and every business and does require some sort of due diligence on the part of the business too. The first and the foremost requirement for a successful enrolment is for the seller to have an active registered trademark on that particular brand that he intends to list on the Amazon. This trademark provides protection to the brand products as well packaging. It is to be noted that Registry is lenient in terms of accepting the application for brands that have a trademark registration application pending in their respective national trademark office. To that effect, every brand would have to provide a requisite trademark registration number and application number, in case of pending trademark applications. The basic requirement herein includes that the trademark for the brand must be a wordmark or a design mark, constituting image- based mark with words, letters, or numbers.
The seller also has to provide a list of product categories (e.g., apparel, sporting goods, electronics) in which the brand is listed. It is known that trademark is also registered in different classes based on the nature of products. In the same light, it is appreciable that the list so provided to the registry corresponds to the classes under which the mark is registered.
The Registry accepts the trademarks that have been issued from countries like the United States, Brazil, Canada, Australia, Mexico, France, Germany, Italy, Turkey, India, Singapore, Japan, Spain, Netherlands, Saudi Arabia, Sweden, Poland, Egypt, the United Kingdom, the European Union, and the United Arab Emirates.
Conclusion
Thus, it can be concluded that investing any time and effort in Amazon brand registry program can be a great deal for the sellers. One of the most appreciable features of the Registry is that it provides protection to the brand, a cross border protection for the good sold online. This means that once your brand, let's say if it is registered with USPTO, the Registry ensures that no other business entity, be it in France, Germany or any part of the world is able
to list products with your trademark on it. It can therefore be said that brand registry is an imperative and indispensable tool which any seller willing to build his business must have in his/her arsenal.