Patent of the week- Musical toy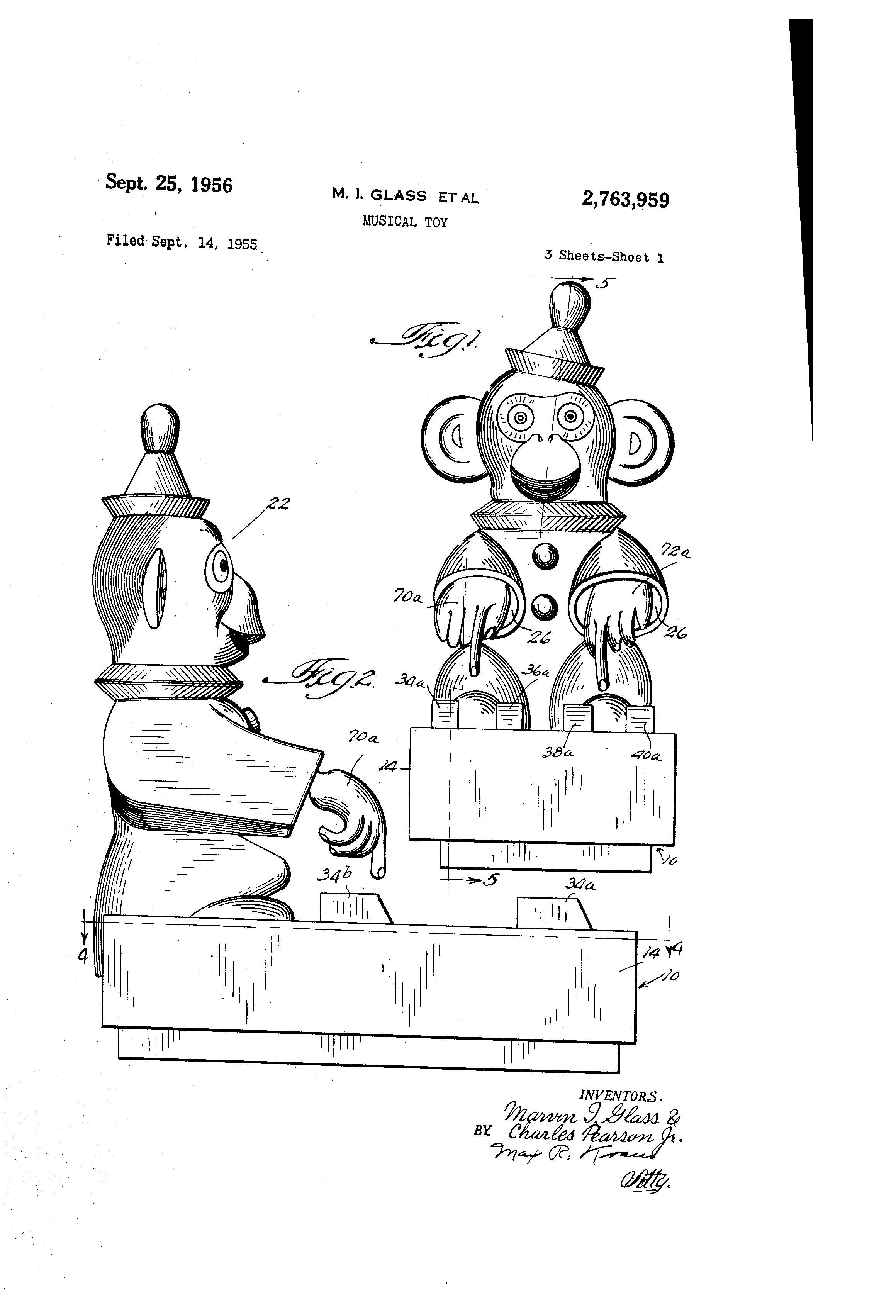 Apart from fun and games for kids, today toys and many playing instruments are coming with lots of special features, thereby aiming to provide an opportunity to children to learn as well as to develop different skills while playing.
Among different types of such toys having learning features, Musical toy seems to be more beneficial for kids as the benefits of music on the development of cognitive skills of children was proved through many researches.
Keeping in mind the benefits of music as mentioned above, Marvin I Glass and Jr Charles Pearson came up with a Musical Toy with advanced features and got patent protection with the Patent Number US2763959A on 25th September, 1956.
The aim of their invention is to provide such a musical toy having a toy figure, which tends to simulate the action of the child while playing the toy thereby giving such an appearance, that the toy figure is playing the same musical instrument simultaneously with the child.
Another object is that child can produce musical tone by depressing a plurality of playing keys while playing with the toy and at the same time the toy figure which is positioned facing the child will seem that it is also producing the musical tones in the same manner as the child is doing, as the hands of the toy figure move across and appear to depress the duplicate keys simultaneously with the child.
Thus the musical toy intends to provide such a toy figure which appears to serve as a playmate companion fort he child while he is playing with the toy.
As we know kids love to have playmates as companion during the play period, this invention not only aims to encourage the child to play the musical tones while playing, but also tends to give the child the impression that he is not playing alone, he is playing with his playmate.
Furthermore, it also aims to provide a simple and inexpensive musical toy with all these characteristics, thereby not only entertains the child during play, but also develops his skills and interest to play music as well as helps in growth of the child's psychology and learning skills.