Today's Trademark- BIRD WATCHER'S DIGEST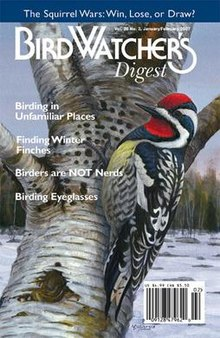 Bird Watcher's Digest is a bimonthly birding magazine published in the United States that was established in 1978. Bird Watcher's Digest was the first market bird-watching publication, and it is still the only one run by a family.
Wild Birds Unlimited and Wild Bird Centers, as well as bird-related organizations such as the Cornell Lab of Ornithology, are occasionally partnered with and supported by Bird Watcher's Digest. William and Elsa Thompson founded BWD in Marietta, Ohio. In September 1978, the Thompsons mailed out 32,000 copies of their first magazine, despite knowing little about publishing.
The company has since developed beyond the journal. The company publishes a bimonthly newsletter (Backyard Birds Newsletter), as well as other bird-watching items, magazines, and booklets, including the Bird Watcher's Digest Original Birdhouse Book (1979).
Former President Jimmy Carter, Roger Tory Peterson, David Allen Sibley, Kenn Kaufman, Betty White, Eirik A. T. Blom, Julie Zickefoose, David Bird, and Scott Shalaway are a few of the well-known birders who have contributed to Bird Watcher's Digest.
The trademark of this company was registered in USPTO bearing registration number 1149370 on March 24, 1981.