Nestle lost monopoly over its 'Four Fingered Bar' shape of 'Kitkat' in EU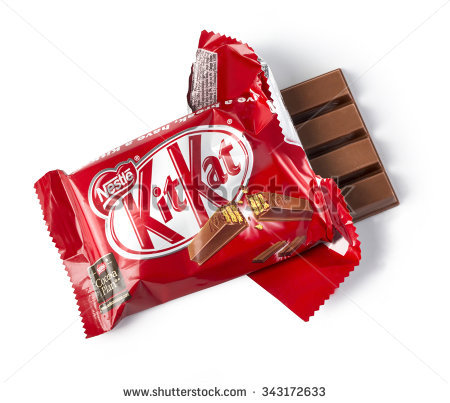 Written By: Stuti Yagnik
Launched in 1935 as 'Rowntree's Chocolate Crisp' and later on named 'Kitkat', the shape of this chocolate has always been its recognition among children and all chocolate lovers.
Nestle, the owner of 'Kitkat' has always wanted to protect its shape to avoid the situation of its rivals coming up with the similar shape for their chocolates. Nestle has recently lost a long run trademark battle to protect its 'Four Fingered' shape of Kitkat.

Nestle is a food company engaged in producing chocolate consisting of four chocolate covered wafer bars, known as 'Kitkat', which it definitely does not want to to be copied by competitors. As its initial attempt to protect its shape, Nestle applied for trademark on its three dimensional shape of four fingered bar in 2002 in European Union Intellectual Property Office (EUIPO).
The shape was granted protection in 2006 but was soon opposed by its rival Company 'Cadbury Schweppes' claiming that the shape of Kitkat cannot be registered as a trademark as Kitkat lacked distinctiveness so as to be given trademark protection.
Distinctiveness of a trademark is the overall impression of a trademark in minds of the consumers. A trademark should be distinctive in character when applied to its goods/services, through which consumers can distinguish its source from source of other goods/services.
Thus, here the main question was whether the shape of Kitkat can be said to be that distinct feature through which the consumers recognize the source or brand of kitkat and differentiate it from other chocolates. Whether the shape of Kitkat has acquired distinctiveness through all these years that the consumers recognize shape as a source identifier.
The EUIPO Board of Appeal initially rejected the opposition in 2012 holding that Kitkat had acquired the distinctiveness among the consumers. On appeal by Cadbury, in 2016, EU General Court annulled the trademark protection and ordered the EUIPO to reconsider the appeal, and observed that Kitkat had to prove its distinctive character in every member country of EU which had not been proven yet.
According to the decision of General Court, Kitkat had acquired distinctiveness in 10 member states out of the 15 states at the time of its application. However, this was not enough to prove distinctiveness throughout the whole of EU.
Unhappy with the decision by General Court, Nestle appealed the decision in the Court of Justice arguing that it was not necessary to prove distinctiveness in every country of EU.
Against this, Cadbury argued that it was not valid to conclude that Kitkat had acquired its distinctive character in the whole EU. The decision of EU Court of Justice has confirmed the 2016 decision requiring Kitkat to prove its distinctiveness across EU.
It was held that EUIPO has to reconsider whether the shape of the chocolate bar can be retained as a registered EU Trademark. According to the judgment, in order to retain the registration of its shape as a trademark, Nestle had to prove the distinctiveness of Kitkat throughout the EU.
Nestle has lost the decade long battle with Cadbury over the shape of 'Kitkat'. Although Nestle believes that this is not the end of the case, this case can stand as a landmark case in considering the difficulty faced even by a large confectionary brand in proving acquired distinctiveness in EU to get registration on its long used chocolate shape as a trademark.
For more information regarding Trademark, Contact Lex Protector  ')}