Patent of the week- BRUSH FOR BOTTLE WASHING MACHINES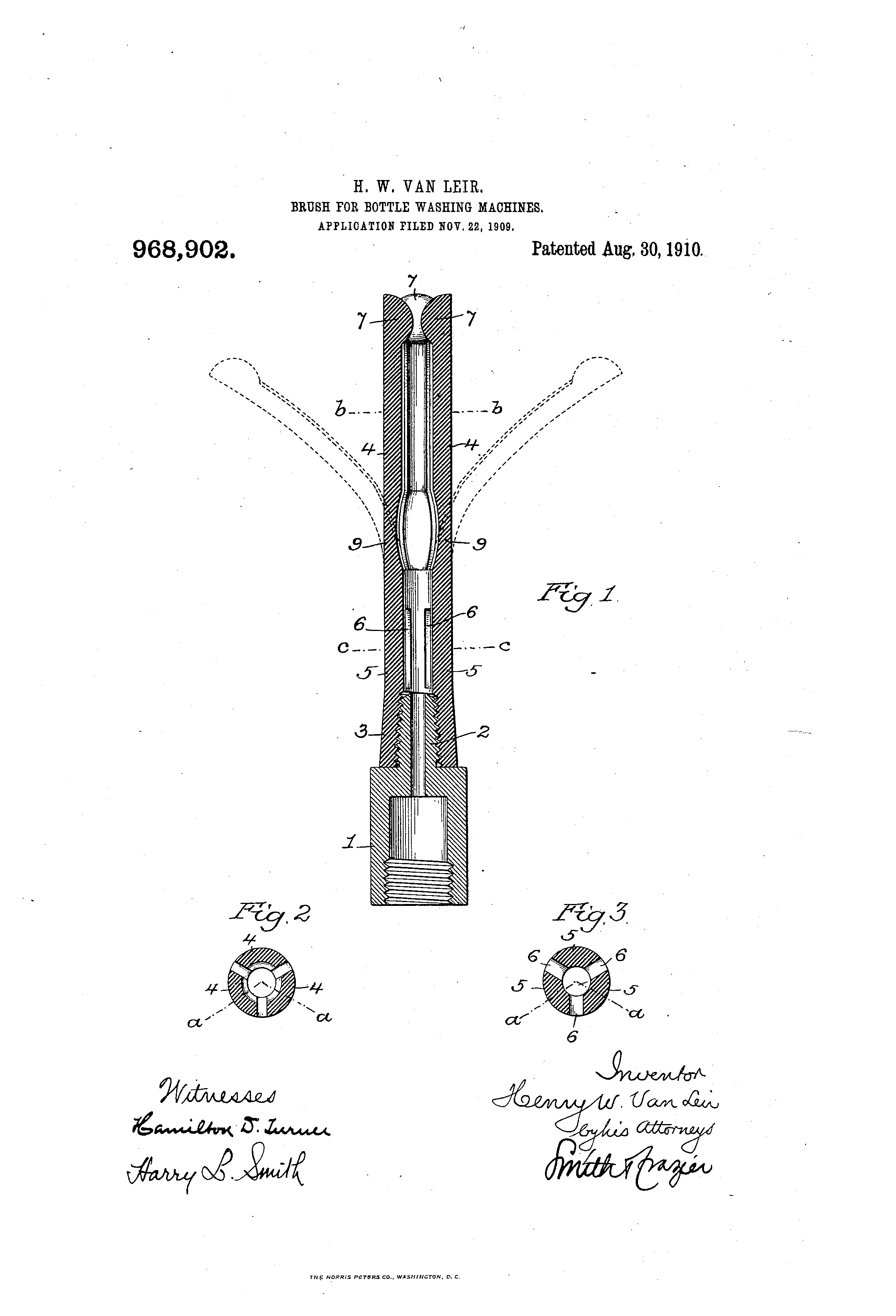 Bottle washing machine is an equipment that has the ability to automatically wash multiple number of bottles i.e. it is a human friendly product which helps to wash the bottles instead of washing them with hands.
Initially a design for the brushes of the bottle washing machine which can reach to all the interior parts of the bottle and clean the bottle properly was lacking. There was a requirement of brushes that have the ability to contact all the interior parts of the bottle and clean the bottles properly.
A patent for such an invention goes to Mr. Henry W Van Lier, for his invention of "Brush for bottle washing machines" bearing the patent number "US968902 A" granted on 30th August, 1910.
Henry W Van Lier invented certain improvements in brushes made of rubber which have capability to spread throughout the bottle and wash all the surfaces inside the bottle.
The invention relates to a design of the brush of bottle washing machine which comprises of a socket, a series of spreading fingers and a confined tubular member. The tubular member are interposed between the socket and the base of the fingers. The walls of the tubular membrane are relatively thin which helps them to spread apart under the action of the centrifugal force when the spindle is rotated. The series of projecting fingers possess internal bulbs or buttons at their outer ends which are more susceptible to the action of centrifugal force when there is rotational movement. The thickness of the finger at the base is decreased so that they are rendered more susceptible to spread all through the internal walls of the bottle under the centrifugal force.
The major objective of the invention was to create a brush in which the fingers in the brush can spread easily and the fingers are not broken due to the pressure of the bases of the same against the metal nozzle of the brush carrying spindle.
Thus, this improvement in the brushes for the bottle washing machines has proved to be an effective and automatic way to wash many bottles without any labor.