Patent of the week-Liquid storage container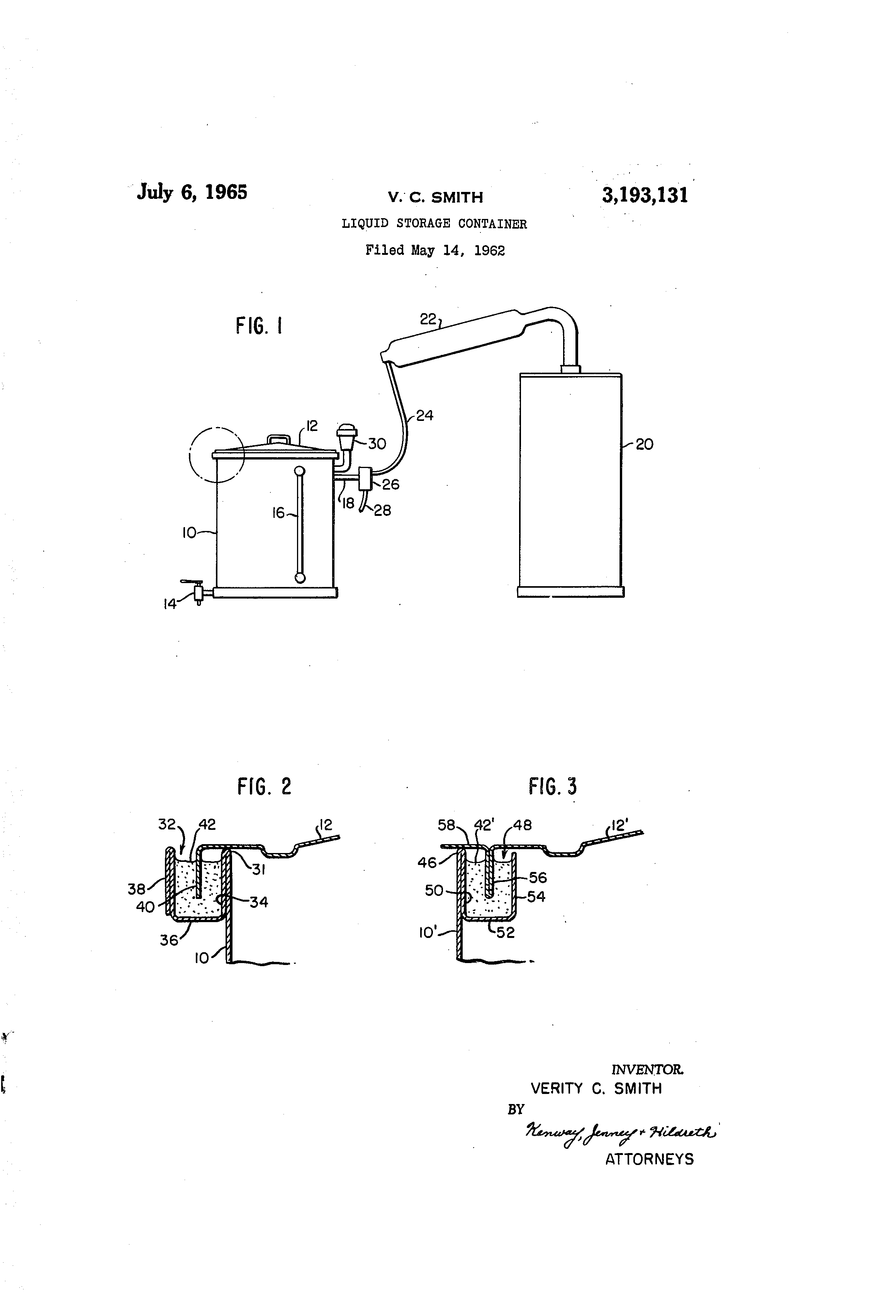 Liquid or gas are the properties of fluid, which can flow, evaporate or seep even through a small opening as well as although if placed in a sealed container, still can distribute applied pressure evenly to every surface in the container.
Liquid storage containers are needed for day to day purposes, starting from storing drinking water to preserving chemicals in the laboratories, hence, they become a necessity for every household as well as for the sector of science and technology.
On 6th July 1965 Verity C. Smith got Patent protection with the Patent Number US3193131A for inventing Liquid storage container with new and improved storage manners, that is mainly related to storage of fluids and specially to storage associated with a closed system in which the pressure of the fluid in storage may fluctuate.
Generally, storage container consists of a vessel and a cover or closure which is rendered gas-tight by providing a channel of liquid about the opening at the upper end of the vessel. The edge of the cover dips into the liquid mass in the channel. Such a container however is not well adapted for the storage of fluids under the conditions of fluctuating pressure within the container, as such fluctuations may interrupt or distort the seal. Thus, it becomes necessary to provide a channel sufficiently deep to establish  a head of liquid at the seal to bear the maximum pressure encountered.
Smith's invention provides a fluid-tight closure seal capable of withstanding sudden pressure changes without disruption of the sealant fluid, while providing all of the tightness to be had in a seal of this type.
His invention is based on the discovery that the adequate fluid sealing characteristics may be combined with resistance to flow under a pressure by employing dilatant silicone putty or commonly available as Silly Putty, as the sealing medium. It acts as a fluid of relatively high density when at rest under no force tending to cause flow, but becomes increasingly rigid and solid when subjected to a force tending to induce strain, thus, in a seal of this type, under idle conditions the silicone putty fills the channel about the open end of the vessel.