Patent of the week-Portable circular saw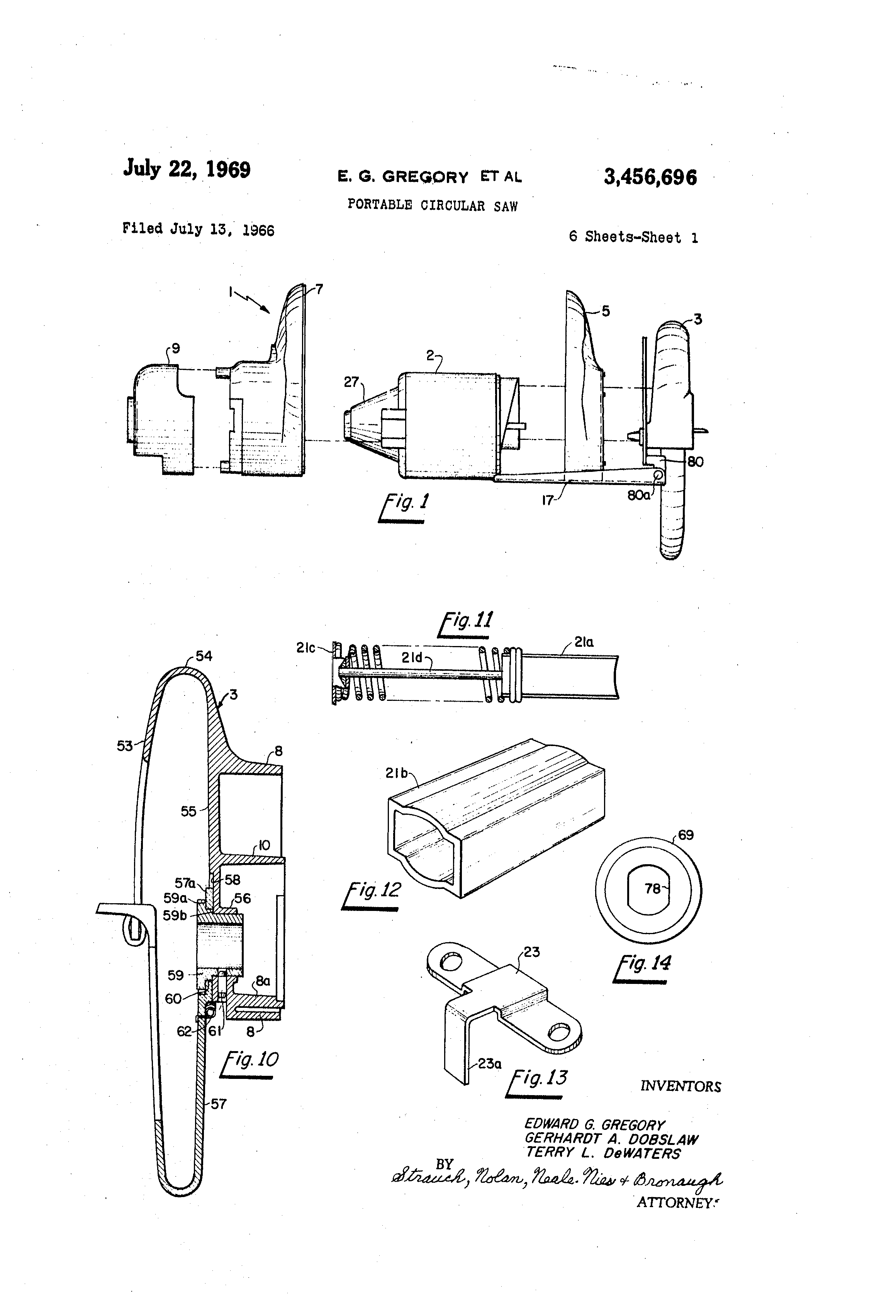 A circular saw is an electronic saw that turns a round flat blade to cut wood, metal or plastic depending on the blade selected. This tool help to cut materials quickly and accurately and may be hand-held or mounted to a machine.
On 22nd July, 1969 Edward G Gregory, Gerhardt A Dobslaw and Terry L De Waters got patent protection with the patent number US3456696A, for an useful improvement in circular saw, which is mainly related to power-driven hand tools.
This improved invention presents an electric shock resistant and impact resistant hand power tool comprising an electric motor. This motor includes a stress resisting dielectric motor casing, a motor output shaft, dielectric motor shaft sleeve and an impact resistant dielectric housing enclosing said motor casing.
It also includes attaching means fixed to the said motor casing and hollow handle means, as well as a switch means housed in it including a dielectric switch operator for controlling the motor.
The most important features of the invention are to provide and electric motor driven hand tool, that would minimize the impact of damage when dropped and have a greater protection during operation in use from hazards such as high speed operation and electrical charges from current carrying components as well as having an electrical non-conductive casing and a housing structure; an electrical motor having a casing dielectric material fully insulating the shaft from the wiring and can also absorb mechanical shock and to protect the motor and tools therein; a protective housing having inter-fitting dielectric plastic sections which facilitate manufacturing and assembly thereby reducing the overall cost and to provide mechanical shock and electric insulating properties, which are inexpensively replaceable in case if any breakage happens.
The assembly of the protective housing to the motor casing is done through a web clamped and thus obtain a proper orientation and reduce assembly cost. There is an improved saw blade mounting structure that facilitates change of blades and eliminates binding.
Overall the invention results in the production of a portable circular saw, constructed with separable motor and tool assemblies in an improved manner, thereby becomes easy to handle, control and use as well as results in greater output in an affordable cost.