Today's Patent- ICE CREAM FREEZER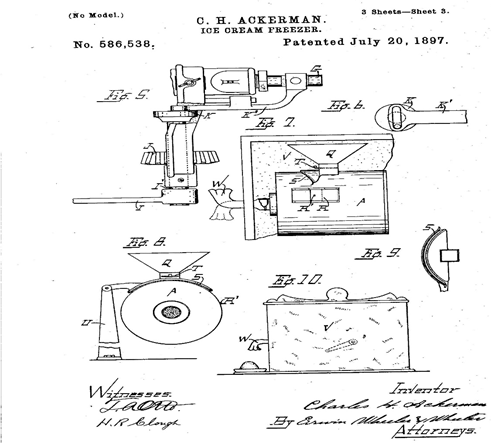 An Ice Cream freezer is used for storing bulk quantities of Ice Cream in order to prevent it from melting. Charles H. Ackerman received his U.S. Patent for this invention in the year 1897.
This invention is the improvement in that class of ice-cream freezers which are 'instantaneous'. It primarily means that the cream is frozen while being forced or conveyed through a refrigerator.
The main objective behind this invention is to render the refrigeration in a more effective way, by increasing the contact of the freezing mixture with the cream-tube. Secondly, it aims in providing a means for thoroughly working or stirring the cream while being frozen.
This invention helps in feeding the cream either constantly or intermittently to the freezing tube and also for feeding the freezing mixture to the ice-chamber. The conveyer with sectional screw-flanges helps in the movement of the cream, thus giving it time to freeze, causing it to be more thoroughly worked before reaching the outlet.