Today's PAtent- PERFUME AUTOMIZER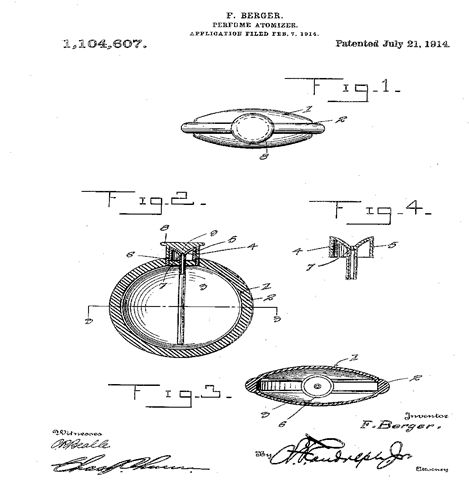 We say, hear and use the word "perfume" (or parfum in French) a lot but no one has ever introspected into the evolution or automization of it.
Perfume is a fragrant mist which is sprayed onto the body evenly, using an automizer. The Russian inventor, FnANn'Bnnona, received his U.S. Patent for the 'Perfume Automizer' in the year 1914.
This invention is a new and useful improvement on the automizers as it resides in the provision of a simple and inexpensive container for perfume. It is provided with a novel spraying or atomizing means whereby the perfume may be sprayed in an expeditious manner, without any unnecessary waste of it.
The important objective of this invention is a flexible body portion comprising of a container which is formed in such a way that the device may be carried within a pocketbook without causing it to bulge thereof.  This invention is efficient, reliable, and cheap to manufacture.