Today's Patent- SONY AIBO Robot Dog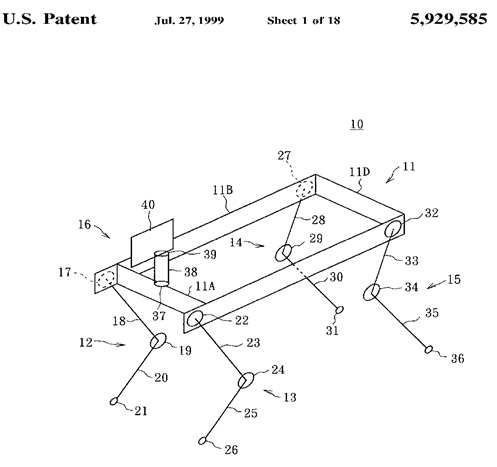 Various advancements in the field of robotics, machine learning communication, etc are turning futuristic visions of compassionate intelligent devices into reality. Artificial Intelligence, amongst these, has the most far-reaching technological advancement, aiming at altering our lives.
Robotic pets were invented to resemble common pets through man-made machines whose features and actions were relatively similar to those of real pet animals such as dogs, cats, and birds. However, with the advancements in robotics and Artificial Intelligence, recent interactive robotic pets are found to be of better substitutes bearing resemblances to real pets in their looks and behavior.
AIBO (Artificial Intelligence Robot) is a series of robotic pets designed and manufactured by Sony for which the artificial intelligence expert, Masarhiro Fujita received his U.S. Patent in 1999. This innovative idea began back in 1994 when Toshi T. Doi, Sony Corporation's lead engineer, enlisted Fujita to formulate a robot with sophisticated sensors.
The first consumer model was introduced in 1999 and soon after that Sony unveiled the 'AIBO First Litter Edition', which was the sixth generation of Sony's robot dog. The present invention is designed with an objective to provide a robot system consisting of a plurality of legs moving while supporting a body. It must be capable of stabilizing a working attitude when working with predetermined legs of a simple structure and a method for controlling the robot.
AIBO is significantly different from any other models which are cloud-based AI as they relied on the powerful on-board computers and advanced sensors, making AIBO smarter and more life-like.
This invention is well equipped with infrared sensors and cameras for eyes that allows it to judge the distance in order to avoid walking into objects. It has various sensors on its head, paws, tail with the ability to detect and respond to their owner's facial expressions and voice commands.