Today's Trademark- MORRISON EXPRESS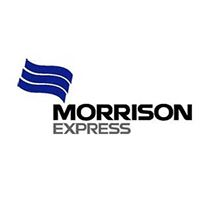 Morrison Express Corp is a pioneer in providing air freight services spread across five continents. The company is not limited to air freight services but also offers ocean freight consolidation, customs brokerage, cargo insurance, charter services, warehousing, and distribution services.
Established in 1972 Morrisson Express began its operations as a regional air freight specialist. Over the years the company has grown to become one of the leading providers of freight forwarding and logistic services across the globe with a network of over 300 companies worldwide.
The company aims to go beyond the traditional approach to global logistics and transportation management. It has now established a comprehensive network of over 100 agent partners worldwide The Company holds the power to move and the passion to deliver its customers the best-in-class services. The company over the years has earned the trust and reputation to deliver some of the most complex freight forwarding and logistic needs.
With the growing competition in the logistics and freight forwarding industry Morrison Express has set a benchmark for others with its quality services and client satisfaction.
The trademark of this company was registered in USPTO bearing registration number 1582973 on February 13, 1990.