Today's Trademark- National Notary Association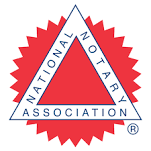 The National Notary Association [formerly known as California Notary Association] is an American Organisation that focuses on imparting knowledge, information, and experience apropos Public Notaries.
. The Association was established in the year 1957 by Rothman Raymond so as to support Californian Public Notaries including seminars. Financial support etc.
The Uniform Notary Act was moved by a collaboration with this association and Yale Law School. The Association is also responsible for other works such as the Notary Public Code of Professional Responsibility,1998, Model Notary Act, etc.
The Association headquartered in California is also a part of the International Union of Notaries.
The Association from the time it founded has gradually grown and increased its bandwidth and currently influences multiple laws and rules apropos Notaries and Public Notaries. The Association primarily aims to serve its purpose more effectively i.e to serve Notaries and their employers throughout the United States by imparting knowledge, building community, and promoting sound professional standards of practice for the benefit and protection of the public.
The trademark of this company was registered in USPTO bearing registration number 1633170 on January 29, 1991.