Today's Trademark- Ted's Hot Dogs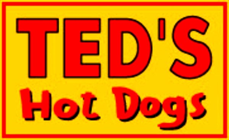 Ted's Hot Dogs is a popular family-owned and managed American Fast-Food Chain. The Journey of this Food chain began when its founder Theodore Spiro started selling hot dogs from a horse-drawn cart in 1913.
The company's journey began from a small shack and they started to set up small Hot Dog stands in multiple cities and they grew gradually. Ted's Hot dogs currently serve in 10 different locations in the United States.
The Hot dog restaurant has nine locations in New York and one location in Arizona.
The Company still continues its signature service style by selling Hot Dogs from Food Trucks. The Restaurant chain gained recognition for its Charcoal broiled Hot Dogs, Homemade Onion Rings, and Milkshakes.
The Restaurant chain further aims to maintain and serve food of the highest quality at a cook to order.
The trademark of this company was registered in USPTO bearing registration number 1316287 on January 22, 1985.